Business Loans for
Healthcare Professionals & Medical Practices
WON'T IMPACT YOUR CREDIT SCORE
*ALL FIELDS REQUIRED
Fast, flexible financing for healthcare professionals & medical practices
Whether you're looking to free up cash flow now or invest in your future financial position, BHG can get you the money you need, when you need it. Working in healthcare can be stressful. Getting a loan doesn't have to be.
BUSINESS DEBT CONSOLIDATION
Simplify your finances by consolidating your debt. No more juggling due dates, racking up late fees, and paying sky-high interest rates. Stress-less with one affordable fixed monthly payment.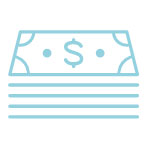 IMPROVE CASH FLOW
Ease your financial burden with extra cash flow. Cover slow reimbursement periods or give yourself a cushion for those unexpected expenses that arise.
MEDICAL EQUIPMENT FINANCING
Stay at the leading edge of the industry with medical equipment financing. Update your technology and buy the state-of-the-art equipment that will keep you thriving in a competitive landscape.
MEDICAL OFFICE FINANCING
Give your patients the top-notch experience they deserve. New exam rooms, updated furniture or a renovated waiting area can make all the difference in patient acquisition and retention.
BUY A MEDICAL PRACTICE
Invest in your legacy with an acquisition loan from BHG. Whether you want to acquire a practice or buy into an opportunity outside the healthcare industry, we're here to support your vision.
GROW YOUR BUSINESS
Get the working capital you need to take your business to the next level. Hire additional staff, bolster your marketing efforts, and increase your bottom line.
AMOUNTS FROM $20,000 UP TO $250,0001
APPROVAL IN AS LITTLE AS 24 HOURS
FUNDING IN AS FEW AS 3 DAYS
REPAYMENT TERMS UP TO 12 YEARS
LOAN WON'T APPEAR ON PERSONAL CREDIT
NO PERSONAL COLLATERAL REQUIRED
1Subject to credit approval. Amounts and interest rates vary and are determined by applicant's credit profile. Call for full program details.
IMPORTANT INFORMATION ABOUT ESTABLISHING A NEW CUSTOMER RELATIONSHIP
To help the government fight the funding of terrorism and money laundering activities, Federal law requires all financial institutions to obtain, verify and record information that identifies every customer. What this means for you: When you apply for a loan, we will ask for your name, address, date of birth, social security number and other information that will allow us to identify you. We may also ask to see your driver's license or other identifying documents. If all required documentation is not provided, we may be unable to establish a customer relationship with you.
What Are Medical Practice Loans?
Are you looking for financing to address the needs of your practice? Consider a medical practice loan, which is designed to meet the financing needs of physicians and specialists. These loan products can be used to address a variety of financing needs, such as operational costs, acquiring an existing practice, purchasing equipment or inventory, or even starting a new practice.
Lenders focus on the qualities that make doctors great potential loan clients, including their high net worth, stable income, and strong earning potential. Doctors who own a medical practice that they want to expand will be in the right financial position for financing, positively impacting their eligibility.
Types of Medical Practice Loans
Medical practice loans for doctors and specialists are available in many options. Finding the right financing to meet your specific needs will depend on meeting your lender's requirements for eligibility. When shopping for financing through a medical practice loan, you should consider such factors as how quickly the funds will be available, whether you can meet the repayment terms, how flexible the repayment plan is, and whether you need to provide collateral as part of your financing.
Each financing option offers its own pros and cons. Finding your best match will depend on your reason for financing, whether you have the necessary collateral or financial resources to meet your lender's requirements.
Short-Term Loans
If you are looking for a fast-financing option, then a short-term loan could be the right option for you. The repayment period is typically much shorter than a standard loan, so be sure that your income can support this repayment plan. Additionally, if you need cash quickly, then a short-term loan could be a viable option.
The ease of the application process and funding speed could make this option the right fit for your needs. Keep in mind that these loans do not necessarily offer the lowest interest rates but they can help you to avoid carrying unnecessary debt for a long period.
It is important to be able to predict your monthly cash flow, as that will play a role in determining whether you can pay off a short-term loan in a timely fashion. However, if you are confident in your ability to repay a short-term loan, then the fast funding and simplified underwriting process might make this financing option the right product for your medical business.
Penn Com Capital – Short-Term Loans
Penn Com Capital can provide medical practitioners can acquire a short-term loan between $20,000 and $500,000 with an APR between 8% and 30% with terms from one to four years. Borrowers who qualify need to have an annual revenue higher than $100,000, a minimum of two years of business history, and a minimum credit score of 600.
Business Lines of Credit
Unlike a standard business loan, a business line of credit has many similarities to a revolving line of credit. Your lender approves a line of credit at a set amount, but you only pay interest on the funds you borrow. Once a business line of credit is established, then you have access to the funds quickly. Even if you do not use the line of credit monthly, you still have access to those funds when you need them.
A line of credit for $100,000, for instance, will only charge you interest on the funds you draw down for immediate expenses, while still providing you the option to take out additional funds up to your limit at a later date. Once you repay the funds borrowed, then your available funds will reflect that, and you have the ability to borrow those funds again. Lenders can put limits on how long the credit line will be available and the repayment terms.
A business line of credit provides flexibility and a cost-effective option for doctors and specialists, particularly if your practice has fluctuating expenses and may have limited warning about periodic equipment purchases. These lines of credit can typically be approved quickly and offer flexible repayment terms and quick access to your funds.
If you are looking for a term loan from an alternative lender for your medical practice, then consider working with our team at Penn Com Capital. We provide term loan products that include the following:
Loan amounts between $25,000 and $500,000
Loan terms between six months and five years
Interest rates between 4.99% and 22.99%
To determine your eligibility, our lending team will require confirmation of two years of business history and a minimum credit score of 620. Contact us today to learn more about the application process and to find the right financing product to meet the needs of your practice.